Discovered on a garbage dump in Camden NJ the most violent city in America on April 13, 2015.
She was then taken to a local impound facility where she sat for five days until NJ Aid for Animals found her in this condition.
Ms. Pea had no skin left to stitch on her open wounds rather she had to heal from the inside out. She had ot have her bandages changed every day to prevent infection. Huge gobs of a medicated paste had to be applied all over her wounds.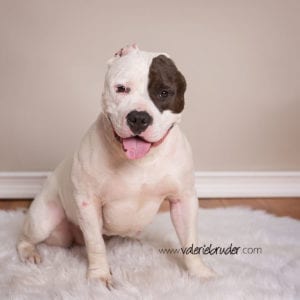 Through it all she never growled or snapped.
Follow her progress as she went through eight weeks of grueling bandage changes and pain.
Now Pea is all better but lost her entire ear. There is just a little hole where her ear used to be. She is still suffering from scars all over her legs and her head but the scars from being used as a bait dog will always be with her.
Here she is today with one of her benefactors, Donna.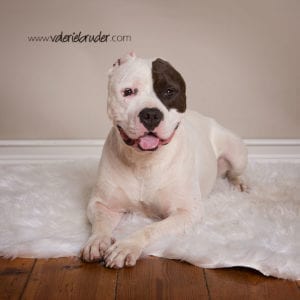 Sweet needs a home (with no cats) that will give her the love and attention she deserves. She loves everyone including strangers that come through the front door, gas station attendants and kids. Because of her little challenge with a slight hard of hearing she will be best with kids over 12. She doesn't dig or chew or bark at strangers.
Won't you take her into your home and show her that all humans are not monsters?
If you are interested in adopting any of our animals, you must fill out an application. Click here for application.