"PROJECT KNOCK OUT" billboard in Camden City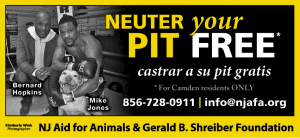 Pit-bull owner Bernard Hopkins shows his softer side
By JASON NARK – Philadelphia Daily News
A well-honed fighter from the streets of North Philly came to Camden yesterday and stepped in the ring with two pit bulls.
But all Karmann and Isis had for former world champion boxer Bernard "The Executioner" Hopkins was a few licks and some wagging tails inside the Camden Boxing Academy in North Camden.
Hopkins, who turned 46 on Saturday, and the pit bulls posed for pictures that will eventually become billboards aimed at encouraging spaying and neutering the breed, particularly in urban areas such as Camden, where some wind up in dog-fighting rings.
"I'm a dog lover," said Hopkins, who owns a pit bull. "At the end of the day, if you don't spay and neuter dogs like this, it can cause chaos."
The billboards will include former champion Ivan "Mighty" Robinson and Olympic hopeful Mike Jones, both of Philadelphia, and are part of NJ Aid for Animals' Operation Knock Out, which will offer free spaying and neutering services in Camden.
Kathy McGuire, NJAFA president and founder, said she spends hours in Camden nearly every day, trying to persuade owners to spay and neuter their pit bulls.
"Neutering your pit bull doesn't make it any less of an animal, but it makes you more of a man," said McGuire.
For more information, visit njafa.org.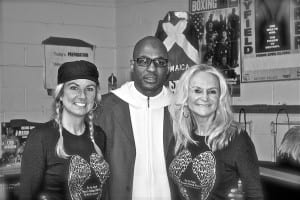 ———————
RENOWNED PHILADELPHIAN AND TWO-DIVISION WORLD BOXING CHAMPION TO LEAD ANIMAL WELFARE PROJECT ON MLK DAY OF SERVICE
CAMDEN CITY,NJ-Bernard Hopkins, who is known as "The Executioner" in
the ring, and a spokesman for fighters' rights, will advocate the importance of spaying and neutering pit bulls through a free spay-neuter program in Camden City, NJ.
Bernard Hopkins is serving as a spokesperson for a new billboard campaign led by NJ Aid for Animals (NJAFA), a nonprofit animal charity serving the animals in Camden City, NJ. "Project Knock Out" promotes the need for spay-neuter programs for pit bulls, especially in urban areas where dog fighting, stray population and other abuses persist. This breed also accounts for about 80% of dogs brought to the local shelters….click here to read full story..