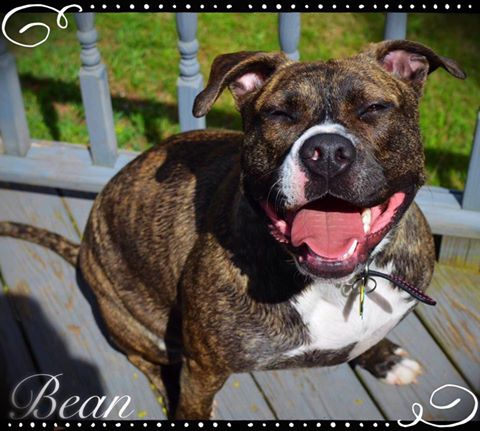 WOOF! Hi there! My name is Bean!
I am a young lady looking for my new best friend. Don't I look beautiful in my photos?
(Check out my Facebook Page: www.Facebook.com/BeanNJAFA)
I have to look my best as I interview families. I'm a large (80 pounds) one-year-old doggie, muscular, so I'd be great a partner for someone who likes to walk. My lineage is one-half American Bull Dog and one-half American Staffordshire Terrier and one hundred percent from the line of kisses and fun dogs. I'm a young gal so I am lively, fun-loving, and silly. I always have a good time, and I always manage to put a smile on everyone's face!!. I'm like the class clown … only sweeter!
I would thrive in an active home where I could play, walk, maybe hike or jog, and otherwise shake my sillies out on a regular basis. And guess what?? I like to swim and fetch. So just imagine it now. . outdoor buddies! I'm already excited just thinking of the possibilities! I love meeting new human people, and I get all wiggly and silly when I see one of my human friends. I'm an affectionate, warm-hearted doggie! My goofiness may make me a bit too much for very young children, but I'd do great with older kids (and, of course, adults!).
I'll also let you in on a little secret, I ADORE belly rubs to the point that you'll have my love and devotion for life from just one rub. I'm truly a good girl, I promise! Oh and I live with a guinea pig, a parrot and a cat who don't bother me at all.
They say good things come to those who wait…
LET'S SET UP A MEET AND GREET!
If you have room in your home and your heart for a silly sweetheart, I'm your girl
Thanks for reading all about me! I hope to meet you soon! I come spayed, chipped, all vaccines, housebroken and crate trained!
Dog licks, Bean xoxoxox