NJ Aid for Animals, Inc. is a 50l(c)(3) registered not-for-profit corporation.
IRS Tax ID: 20-3772876
Charities Registration: #CH2798900
Our Motto:
Advocacy. Action. Impact
Vision Statement:
A world with no animal cruelty
Mission Statement:
To enrich the life of every animal we touch, provide programs for domestic animals on wellness, humane education, spay and neuter with a focus on impoverished communities; report abuse and pursue justice for abused animals.
Contact Us:
P.O. Box 4
Cedar Brook, NJ (Camden County) 08018
856-728-0911
info@njafa.org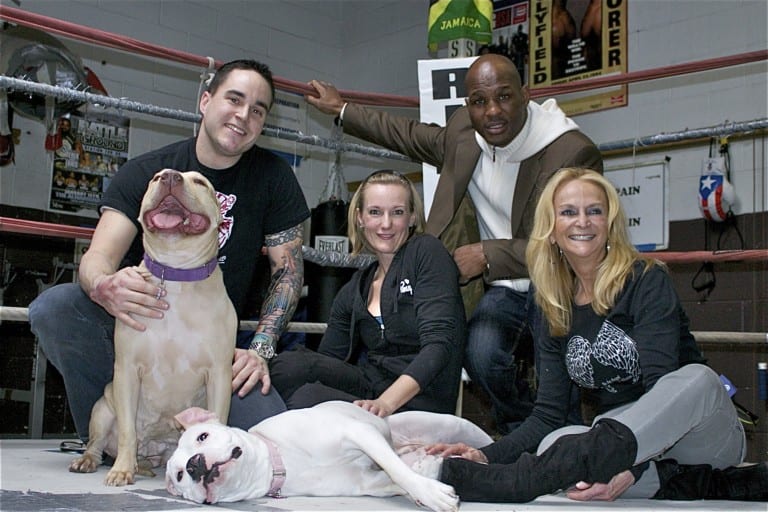 (From left to right) Karmann and Mike, Isis, Angela, Bernard Hopkins and Kathy McGuire
What we do:
Report animal abuse
Bring justice to prosecute animal abusers
Rescue and aid abused and abandoned animals
Improve quality of domestic animals' lives residing in lower socio economic communities through vaccines, flea treatments, collars, leashes, dog houses
Educate owners on responsible pet ownership and provide solutions to help owner solve their pet problems
Offer spay and neuter to reduce pet overpopulation
Transport domestic pets from areas where individuals have no transportation to veterinarians
Act as first responder to aid an abused or abandoned animal with no resources
Refer and counsel private citizens on animal abuse and/or pet problems