LUCKY DOGS IN CAMDEN CITY TO RECEIVE WARM DOG HOUSES. WIN-WIN FOR DOGS AND ENVIRONMENT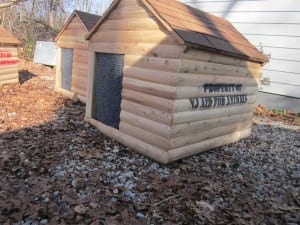 November 9, 2011 – Marlton, NJ – The leading animal protection charity in Camden City, NJ Aid for Animals, (NJAFA) in partnership with Whole Foods Market, Marlton and Burger Fence Company, Mantua, are raising funds for the recycling of wood. Read Press Release, view more photos and check out video – click here.
Champ
This beautiful pup is loving his new "digs". NJAFA delivered this dog house and stuck it snug into a garage on the owners' property so Champ will be doubly protected. As you can see, President, Kathy McGuire, wanted to be sure all the straw was stuffed properly into the rafters of the house and Champ decided to join her!
no images were found

Warm Dog Houses In Camden City For Lucky Dogs (and outside ferals)
The leading animal protection charity in Camden City, NJ Aid for Animals, (NJAFA) in partnership with Burger Fence Company, Mantua,has been building and delivering dog houses to Camden City as one of its signature programs delivering over fifty dog houses in five years. It's a win win for the environment as privacy fencing gets recycled into dog houses….. read more and view video